Functional Skills pass rates 2020-21
Introduction
Functional Skills English and maths qualifications were reformed in 2019 and launched to the market with more detailed subject content and clearer criteria on how they need to be assessed. However, during this period we've seen major disruption to education caused by the Covid-19 pandemic, which has affected access to learning and assessment.
NCFE has addressed the challenges head on, introducing Remote Invigilation and on demand paper-based assessment to allow greater flexibility for learners. Inevitably the disruption led to less assessments this year than in previous years and will ultimately have affected the pass rates for those assessments.
There is often a lot of attention placed on pass rates and what they mean in comparable terms. It's worth noting Ofqual's blog on this matter and that there are many considerations to take on board in relation to learner and centre profiles. 
Support available
NCFE's core mission is to shape smarter learning with English, maths and digital skills being a core foundation to provide that.
One of the key elements of the reform programme was to ensure comparability across Awarding Organisations' assessments, and this has generally been the outcome, with all the assessments held at a similar level of demand.
We've put a variety of support in place to ensure the learner has the best possible chance of achieving their Functional Skills assessments. By using this support, you enhance the delivery experience for your learners and put the best support in place for your learner to achieve.
With Skills Assessment, you get access to One Assessment (a single initial assessment in 30 minutes for both English and maths) and diagnostics, online resources, and a tracking system through Skills Builder.
Free access to English and maths specialists, who provide onboarding and curriculum support to tutors along with free CPD sessions and follow up support to assist delivery.
We provide a minimum of 5 sample/past assessment papers and a selection of online sample assessments that allow learners to familiarise themselves with our assessments and system.
Teaching and Learning Resources
NCFE have our own teaching and learning resources that contain full sessions for delivery of the subject content at all levels, alongside schemes of work, planning and activities.
NCFE Functional Skills pass rates 1 Aug 20 – 31 July 21
| | | |
| --- | --- | --- |
| ASSESSMENT | FIRST TIME PASS RATE | OVERALL PASS RATE |
| LEVEL 1 FUNCTIONAL SKILLS MATHS | 47% | 45% |
| LEVEL 2 FUNCTIONAL SKILLS MATHS | 44% | 42% |
| LEVEL 1 READING | 67% | 65% |
| LEVEL 2 READING | 60% | 57% |
| LEVEL 1 WRITING | 72% | 70% |
| LEVEL 2 WRITING | 81% | 79% |
| LEVEL 1 FUNCTIONAL SKILLS ICT | 58% | 56% |
| LEVEL 2 FUNCTIONAL SKILLS ICT | 57% | 52% |
Working out the pass rate
There are different ways to work out the pass rate and they can have different meanings and purposes. For this purpose, the overall pass rate is the number of passes as a percentage against the number of assessments taken.
We have not used any CAG or TAG data in the pass rate data on the basis that it's not a fair reflection of the assessment. TAGs were viewed as a measure of last resort by the Department for Education (DfE), and by default all learners submitted would be given a pass grade. Given the low numbers of TAGs we felt we could analyse the rates using only the assessments taken.
First time vs overall pass rates
With the flexibility of Functional Skills assessments, learners are taking assessments at any given time and across a variety of learner backgrounds, which inevitably means that learners are taking assessments more than once.
We have broken down the pass rates using the following methodology:
First time pass rates: the ratio of the total number of passes on the first attempt and the total number of first attempts expressed as a percentage for the 2020-2021 session.
Overall pass rates: the ratio of the total number of passes and the total number of attempts, expressed as a percentage for the 2020 – 2021 session. Overall Attempts are candidate entries that had their first attempt and then any additional attempts in the 2020 – 2021 session.
What the pass rates tell us
The key thing that you'll notice is the difference between the pass rates for the reformed English and maths. There are lots of different theories around this; however, the introduction of a new style of assessment and additional content for maths has had a much greater impact, whereas the English format and content was relatively unchanged.
The approach to the assessments is different too for English - particularly the reading, as the information is provided during the assessment. However, for maths, the learner must have the knowledge to work out a question with no support to complete the question.
Our Provider Development team have created over 30 tutorials to support delivery and learning in the areas that learners struggle the most in. We provide online learner feedback for each learner's online assessment for free, to help identify their strengths and weaknesses in the subject content statements.
Pass rates by provider type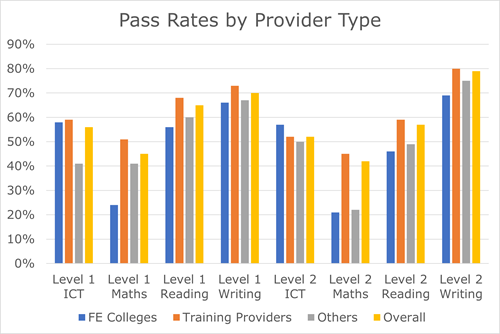 Looking at the breakdown of the provider type, what stands out is that Training Provider learners consistently come out on top (bar ICT L2). This should not be a surprise as the learners in this bracket tend to be apprentices and work-based learners. This means they are more invested in achieving, as it could mean securing a job role or promotion, since the apprentice cannot complete their apprenticeship without achieving in English and maths.
For FE Colleges, their learners tend to be more familiar to the academic assessments, so the problem-solving nature of Functional Skills is a change of learning style. Additionally, the condition of funding rule drives learners on to GCSE, rather than a qualification that may be more suitable for their learning style. It's also important not to understate the impact of loss of learning in this sector due to the pandemic, with the DfE deciding to allow Functional Skills to continue rather than be decided by TAGs, like GCSEs. This meant that learners were required to go ahead with assessments when they may not have had their full learning entitlement.
FE colleges pass rates
| | | |
| --- | --- | --- |
| ASSESSMENT | FIRST TIME PASS RATE | OVERALL PASS RATE |
| LEVEL 1 FUNCTIONAL SKILLS MATHS | 26% | 24% |
| LEVEL 2 FUNCTIONAL SKILLS MATHS | 23% | 21% |
| LEVEL 1 READING | 57% | 56% |
| LEVEL 2 READING | 47% | 46% |
| LEVEL 1 WRITING | 69% | 66% |
| LEVEL 2 WRITING | 71% | 69% |
| LEVEL 1 FUNCTIONAL SKILLS ICT | 63% | 58% |
| LEVEL 2 FUNCTIONAL SKILLS ICT | 67% | 57% |
Independent training providers pass rates
| | | |
| --- | --- | --- |
| ASSESSMENT | FIRST TIME PASS RATE | OVERALL |
| LEVEL 1 FUNCTIONAL SKILLS MATHS | 53% | 51% |
| LEVEL 2 FUNCTIONAL SKILLS MATHS | 48% | 45% |
| LEVEL 1 READING | 71% | 68% |
| LEVEL 2 READING | 62% | 59% |
| LEVEL 1 WRITING | 75% | 73% |
| LEVEL 2 WRITING | 82% | 80% |
| LEVEL 1 FUNCTIONAL SKILLS ICT | 64% | 59%  |
| LEVEL 2 FUNCTIONAL SKILLS ICT | 55% | 52% |
Other types of providers (e.g. community providers, local authority, volunteer organisation)
| | | |
| --- | --- | --- |
| ASSESSMENT | FIRST TIME PASS RATE | OVERALL PASS RATE |
| LEVEL 1 FUNCTIONAL SKILLS MATHS | 41% | 41% |
| LEVEL 2 FUNCTIONAL SKILLS MATHS | 23% | 22% |
| LEVEL 1 READING | 62% | 60% |
| LEVEL 2 READING | 51% | 49% |
| LEVEL 1 WRITING | 67% | 67% |
| LEVEL 2 WRITING | 77% | 75% |
| LEVEL 1 FUNCTIONAL SKILLS ICT | 31% | 41% |
| LEVEL 2 FUNCTIONAL SKILLS ICT | 51% | 50% |